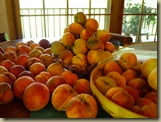 The summer of 2010 was a "peachy" one at our house. Peaches covered tables and filled buckets an dripped down chins. Mom, Esther, brothers, and friends joyfully rose to the occasion and bagged, froze, dried, canned, and ate until all 430 pounds of fresh sun-ripened fruit was safely put away. As I continue to evaluate the few carefully chosen peach varieties we have planted here in the mountains of West Virginia, I was excited for the chance to gather more information, especially on fruit quality.
The grafted cultivars 'Intrepid' and 'Madison' were too young to bear. More on them in coming years. 'Contender' suffered a severe setback in the winter of 2008-2009 due to borers and meadow voles, but is making a surprising comeback. Our 'Hardired' nectarine finally died after a long struggle with our environment. Any fruits it ripened in previous years always cracked severely. It had bacterial spot problems on the foliage unlike our other peaches and always lost its leaves early and simply never thrived. Chances are low that I'll experiment with nectarines again; if I do  it will probably be 'Mericrest'.
Peaches were harvested from three cultivars, 'Reliance', 'Harrow Beauty', and 'Charlotte', and three seedlings of 'Bounty', #1, #2, and #3.
Trees in chart are listed in ripening order.
Click here to view the chart as a PDF