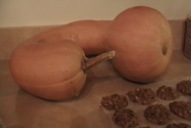 You can't judge a book by its cover; well, you can't judge a pumpkin by its shape either.
Actually, I am not talking about a pumpkin but a "melon squash" or "sweet necked squash."
Some look at its shape and call it a gourd, but when you cut it open you see a solid orange neck and a hollow bulb full of seeds. We dry the seeds to plant in the spring or eat. Michael started growing these squash when he learned that they were sweet enough to eat raw. However, they are best when cooked and used in recipes which call for pumpkin.  They make perfect pumpkin pies.
One squash goes a long way. I cut up one that was fourteen pounds last week and was able to can five quarts of pumpkin with three cups left over for soup!  They also keep well in the cellar.
In all the pumpkin recipes posted, I have used this squash either fresh or canned. My latest experience with this delicious vegetable has been a pumpkin cake roll.  This is a cake rolled up with cream
cheese.  This recipe is going to take some practice!  Does anyone have any pointers about how to make a pumpkin roll? Mine tasted good but did not look "like the picture." 
"Judge not, that ye be not judged. For with what judgement ye judge, ye shall be judged: and with what measure ye mete, it shall be measured to you again." Matthew 7:1,2