Family unity seems to be in danger of extinction in American culture. Almost everywhere you look older siblings are tearing down their younger brothers and sisters. Leaving home is the escape that young people long for. Obviously, the reason that family discord is so wide spread is because the root causes for it are accepted as normal in our culture. The only way to avoid normal problems is to avoid the normal causes. The result is raising a family in a very abnormal way. My words can not express how grateful I am that my parents had the gumption to do what seemed radical. The farther that "normal" degenerates, the more radical simple common sense goodness appears to be. But the fruit of their efforts and the efforts of other faithful parents glowed in an awesome way last weekend as we gathered together with a number of other "out-of-the-ordinary" families in joyous, holy, unified fellowship.
On Sunday, April 6, eight families (Butlers, Campbells, Hynes, Mattiches, Staddons, Thrashes, Voells, and Wilkes) gathered together at Cacapon State Park, WV, despite chilly, drizzly weather. Soon a cheerful fire was cracking in the cozy pavilion and the peaceful melody of hymns echoed out through the trees. Following came the secret to our fellowship: the Word of Truth. We heard fresh insights into the Biblical significance of hope and what it means to us. No one cared about the amount of time that passed as we fed on the green pastures of God's holy, unchanging Word. Afterwards we openly confessed our sins to God and one another in prayer and proceeded to renew our covenant together in
the blood of Christ (Mark 14:24).  Each of the men aged 13 and older gathered and shared the parts of the message that were most meaningful as well as additional insights and admonitions. Meanwhile, the ladies had prepared a scrumptious feast around which we got to know new friends.
A much-anticipated highlight of our time was a new kind of sport:
"Discipleship Soccer"! Mr. Wilkes had emphasized the importance of a whole new priority for the game: making sure that new or younger players were given important roles and allowed to develop their skill. It left plenty of room for some hot contesting while the power of older players was under control. True teamwork resulted, ego was left behind, and in the excitement of helping new players score, the actual ending score became insignificant (Philippians 2:3-4).
At the conclusion of our time we gathered together to share a few of the amazing things that God had done over the last few months. Especially inspiring were the stories of those who had been drawn to Christ and had experienced the transformation of salvation and the freedom of obedience (Romans 6:16-18).
As we parted ways there was a sorrow we all felt. At the same time our hearts overflowed with gratefulness to our God for what He had allowed us to participate in. It was as if our family had quadrupled in size and the expectation of our next reunion ignited a flame of hope. "For what is our hope, or joy, or crown of rejoicing? Are not even ye in the presence of our Lord Jesus Christ at His coming?" 1 Thessalonians 2:19.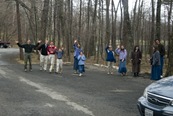 If there be therefore any consolation in Christ, if any comfort of love, if any fellowship of the Spirit, if any bowels and mercies, fulfill ye my joy, that ye be likeminded, having the same love, being of one accord, of one mind" Phil. 2:1-2.