The High Places of the Earth, Part VI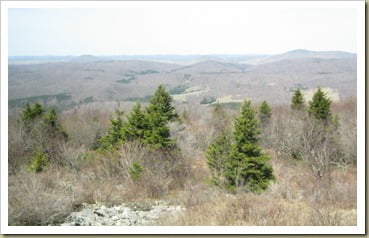 Spruce Knob
   Elevation 4,863 feet (1482 meters)
Visiting Spruce Knob was just a dream for a long time–until last weekend! Thank you! to everyone who made it possible—and for
hiking through the windy wilderness with me.
By the way, how does West Virginia's highest point compare with other "high places" in the US???
Highest Points of the Eastern States:
North Carolina: 6,684 ft (Mount Mitchell)
Tennessee: 6,643 ft (Clingmans Dome)
Virginia: 5,729 ft (Mount Rogers)
West Virginia: 4,863 ft (Spruce Knob)
Georgia: 4,784 ft (Brasstown Bald)
Maryland 3,360 (Backbone Mountain)
Pennsylvania: 3,213 (Mount Davis)
And it is interesting to note that . . .
Beyond the somewhat lower elevations of Pennsylvania, New England's highest points by state are in the exact same height range:
New Hampshire = about 6,300 ft;
New York & Maine = about 5,300 ft.
Vermont = about 4,300 ft.
Also . . .
– West of the Mississippi River, states with comparable highest points to West Virginia are: North Dakota, Nebraska, Kansas, and Oklahoma.
– The far western states and Hawaii boast
many points approaching three times the height of Spruce Knob (over 13,000).
– Mount McKinley in Alaska, the highest point in North America at 20,320 ft., is 4.18 times the height of Spruce Knob; only South
America and Asia have points higher than this.
– And believe it or not, mean (average) elevations are relatively close for all of the following states: Oklahoma (1,300 ft.) West Virginia (1,500 ft.) Texas (1,700 ft.), Alaska
(1,900 ft.), and Kansas (2,000)—all well below the national average, about 2,500 ft.
So, let us know if you want to join us next time, hiking Wild Wonderful West Virginia.