Driving up to the construction site, we were welcomed by happy children who pulled back the sheets to invite us into their home. You see, a grand addition to the house had been under way for the past eleven days
which required knocking out the front of the house. However, exhaustion from the work and the fact that they had been entertaining a constant flow of company, did not stop the warm hospitality of Gil and Kelly Bates and
their sixteen children. As we went through introductions, I wondered how many of these names I would remember; but I was sure of one thing — their genuine spirit of hospitality would not be forgotten!
We found both work and play to be delightful with this like-minded Christian family and we thoroughly enjoyed our stay. If you had been there you would have seen joyous moments of sharing testimonies in the living room, feasting on the delicious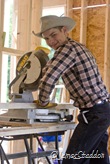 home-cooked meals around the huge dining room table and exploring the nearby cave with late-night hikers. You would have heard constant storytelling, the roar of drills on the roof and the thud of oranges (not to mention the eggs!) as they fell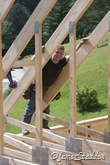 past the hands of the jugglers in the kitchen.
As we pulled out of the driveway after our sad farewells, there was one thought that went with me. I was motivated to trust the Lord through everything instead of getting uptight and worried over unexpected complications. In the midst of an unfinished house and a very busy schedule, there was peace in the Bates' home; the same peace of
God which can flood our hearts in any situation.
There are too many pictures of the late-night hiking escapade to include here. You will have to wait to see them in the next post, coming up tomorrow night!