It was a good feeling to move into our new offices and have a couple weeks to pull together the details of starting a new session. It's pure joy to work with this incredible team!
Our days began with prayer and were filled with all kinds of projects. I learned so much! Revising paperwork taught me what to include in a child protection policy, medical form and background screening release; writing announcements gave me a chance to think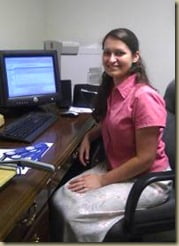 through important points of teaching attentiveness; scheduling schools gave me a feel for how things were going as they started off into a new school year; writing up a brochure refined my ability to explain the program; and preparing to teach lesson planning gave me a greater perspective on what all is involved. Praise the Lord for the preparations that have been made. Please pray that all the little details would now fall into place as we go into the schools on Monday!