Which Bible Can We Trust?
With so many different versions of the Bible in the world today it becomes very important to ask: which Bible can we trust? After all, the Bible is the written Word of God, every Word of God is true, and thus it is the key for understanding doctrine, reproof, correction and instruction in righteousness (II Timothy 3:16).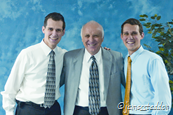 Last week, Robert and I had the opportunity to hear a message by Mr. Les Garrett from Australia. He is an authority on the subject, having studied Bible history for decades and spoken in many countries on almost every continent of the world. His passion for truth was contagious! Here are some points, some of which he covered in his message, that might help in a quest for knowing which Bible to trust.
Choose a Bible that is closest to the original Hebrew and Greek. Learning these languages would be the best way to read the Bible, but, obviously, that is not always possible.
The translations of today are based either on the "Textus Receptus" (Received Text) or the Revised Text. The Revised Text originated in the Catechetical School of Alexandria which held an "allegorical interpretation of Scripture" (to quote Wikipedia). In contrast, the Received Text was upheld by the School of Antioch who "held a more literal and … typological exegesis." This was one of many differences between the two major centers of theological study of the ancient world, and a fact that the modern world has largely ignored.
Received Text versions include the Wycliffe, Tyndale, Geneva, and Authorized (or KJV) Bibles. Revised versions include the Vatican, Revised Standard Version, The Living Bible, New Living Translation, and New World Translation (Jehovah's Witness) Bibles. Straddling the fence, or versions attracting less controversy, include the NIV, NAS, and NKJV.
The Revised Version of 1881, predecessor of most modern translations today, was published by F.J.A. Hort and B.F. Westcott. They departed from the Textus Receptus, basing their translation on the Alexandrian corruptions of the ancient Vatican and Sinaitic manuscripts. The views of the translators are clearly seen in their attempts to subtly obscure or omit the deity, pre-existence, virgin birth, and atoning sacrifice of Jesus Christ.
Many important words and often whole verses are missing in Revised Text versions of today. The amount of departures between the 1611 KJV and the 1881 Revised Version was over thirty-six thousand! Close examination and study of the missing portions reveal an astonishing trend toward promoting unitarian, Arianistic, humanistic and nontrinitarian beliefs.
"For many deceivers are entered into the world, who confess not that Jesus Christ is come in the flesh. This is a deceiver and an antichrist. Look to yourselves, that we lose not those things which we have wrought, but that we receive a full reward" (II John 1:7-8).